Art Market San Francisco is taking place from 15th – 18th May and I'm gonna have some things for display there.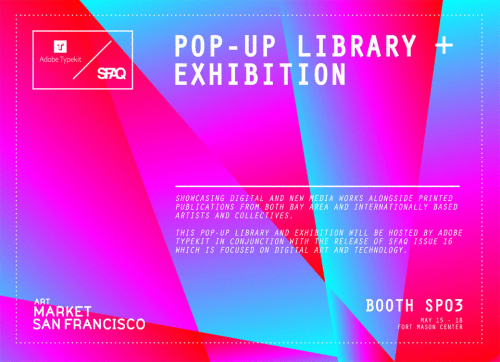 POP UP LIBRARY + EXHIBITION, a project organized by Nate Hooper from The Popular Workshop and Andrew McClintock from SFAQ in partnership with Adobe Typekit at the 2014 edition of Art Market in San Francisco

Publications showcasing selections from Adobe Typekit's design and typography library will be presented alongside the work of internationally based digital artists, publishers, designers and collectives. The Pop-Up Exhibition & Library will serve as a physical space for exploring issues surrounding contemporary digital-based art practices. Works will span a wide variety of mediums, from traditional print form to digital media installations and Internet based works.
I'll be showing works alongside the likes of Rafaël Rozendaal, Petra Cortright, Yoshi Sodeoka, Anthony Antonellis, Undervolt, Imperica and many more ++
There'll also be talks from Rafaël Rozendaal and Ceci Moss. All the details are here here here here. I hear they're doing a complimentary free day pass as well 😉 You should go because I can't (stupid expensive flights)