After a two year hiatus I've decided to bring back the end of year blog posts. As you will have noticed this blog isn't updated that much aside from event notifications, and as I'm not on Facebook any more it can be a bit difficult to follow what I'm up to (psst look at my Events page).
January
January as always is a bit quiet. For us freelancers it's a chance to catch up on the millions of e-mails we didn't do over the year and hassle people to pay invoices, and to do all of our taxes (yay!).
February
Short Circuit Terminal 2 launched with a show in Venice. This second iteration of the work showcased the more complete web interface of the piece.
Also there was my first Algorave performance of the year over at Rough Trade in Nottingham.
March
I provided visuals for Steve Davis (yes, the snooker player) at Hare and Hounds (thanks Capsule). The night was just generally full of joy 🙂
After doing a workshop in ImageMagick at BOM I jetted off to Montreal, Canada to talk to lots of Canadians about digital art and Copyright for the Arts in a Digital World Summit. It was a pleasure to have been invited and help reflect on digital communities. I also got to meet the awesome Carrie Gates for the first time IRL!
I did a small writeup of my experience for the New Art West Midlands website.
April
My biggest curated exhibition to date launched in April. No Copyright Infringement Intended opened its doors at Phoenix in Leicester. The exhibition featured 10 artists whose work tackled copyright in a variety of ways. I'm of course very thankful to Phoenix and Arts Council England for their support (and to Kerry Leslie for her awesome graphic design for the exhibition).
Elsewhere, in my Curating role at Vivid Projects we, in collaboration with Flatpack Film Festival, presented the first UK screening of all four episodes of Ways of Something.
Hybrid Landscapes launched at Digital Catapult in London and featured a video of Unauthorised Copy.
Later that month I welcomed various artists from the No Copyright Infringement Intended exhibition to a panel discussion called Copyright as Frame and Prison.
May
Short Circuit Terminal 3 – the final one – launched in Venice and showcased the most completely versions of both Unauthorised Copy and Exposed.
I then made my way up to Newcastle for the Chemical Algorave, which was my first time experimenting with Pure Data and OBS for live coding visuals.
Why this is notable is because prior to this I wasn't able to overlay my patch onto my visuals. So, whilst I was live coding no one could tell! Using OBS I was able to do this and much more (for example try using the LUT effect).
June
Aside from curating work at Vivid Projects June was relatively quiet and focused on Algoraves. For the first I curated and performed at an Algorave for Supersonic Festival, which featured Miri Kat, BITLIP and Heavy Bleeding, which is/was the collaboration between Blood Sport and Heavy Lifting.
I then made my way over to Kortrijk to provide visuals for Yaxu at an Algorave for the BUMP design festival.
July
I continued my Summer of festival Algoraves with a performance at Bluedot Festival at Jodrel Bank. We couldn't quite compete with Orbital but we drew good crowd 🙂
Back in May I started a Fellowship at Near Now in Nottingham. My project, Curating the Machine, aimed to investigate the relationship between automation (AI) and curating. In July myself and the other Fellows did our first public presentation about our respective research projects.
You can read more about my research here: https://curatingthemachine.wordpress.com/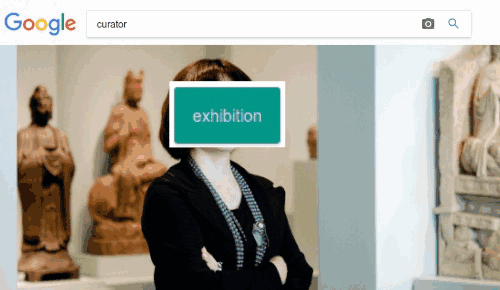 August
My main task of this month was to embarked on one of my most ambitious projects/artworks to date at Green Man Festival. My work, Mirrored, aimed to replicate the experience of live visuals but in a fixed form.
Many thanks to Green Man for supporting this art work. It was tough at times but I enjoyed it 🙂
If doing that project wasn't enough I also performed at Green Man's first Algorave in Einstein's Garden.
At the end of the month I published my five days of Pure Data series of blog posts and tutorials, something which I had been meaning to write and publish for many years!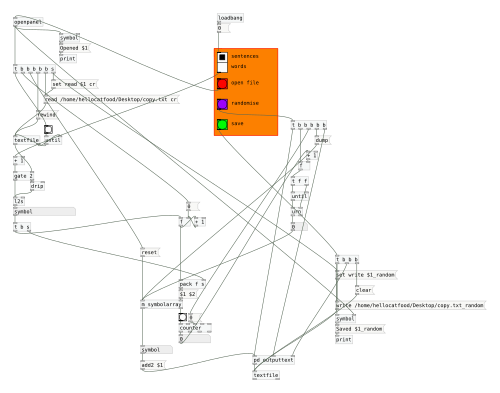 September
Barely a fortnight after being in a field for a week I was back on curating duties for the second iteration of No Copyright Infringement Intended at Vivid Projects.
This time the exhibition was only three weeks long but it still had the same amount of activities as the exhibition at Phoenix in April. In fact I somehow managed to add in a meme-making workshop and a presentation from Gretchen Andrew!
Other activities in this busy month included a commission for Spon Spun's Art Trail and a performance with Michael Lightborne at the Coventry Biennale.
With the Support of my Near Now Fellowship I did a presentation about No Copyright Infringement Intended at CopyCamp in Warsaw, Poland.
People like myself, Nick Briz, Ariele Elia, and Mitch Altman provided takes on the state of copyright from the perspective of creators and artists, which was a great complement to the insightful presentations from copyright lawyers and professionals.
To round off the month Exposed and Unauthorised Copy were exhibited at the V&A's Digital Design Weekend.
October
This October was a bit quiet due to teaching again at University of Westminster and starting occasional teaching at Staffordshire University.
I also started a series of regular workshops at the Barbican in response to the Boom for Real Basquiat exhibition. This kicked off with a bit of live digital and collage art with Maria Midttun for their Too Young For What event.
Towards the end of the month I was back at Parsons Paris to give another talk about my work but this time focusing on No Copyright Infringement Intended and remix culture in general.
November
The biggest event of November was a performance at Algomech in Sheffield. I had previously provided visuals at their closing party in 2016 but this year I was on visuals duty at their main Algorave. The Guardian even did a feature on it for their series on underground music.
You can see your favourite visuals live coder throwing some shapes at 0:27 😉
December
I actually had no events in December!
As you can probably tell, this post wasn't originally written in 2017, or even in early 2018 as I had planned. Instead it got pushed further and further back until now, December 2018. With the deletion of many social media accounts I eventually want to return to writing more on this website and elsewhere. Oh, and make art 😉