The final performance for Homegrown will be taking place at Vivid Projects on 9th September from 19:00 – 22:00.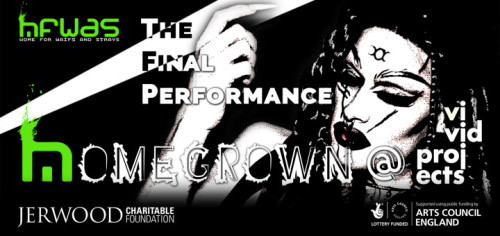 It's finally here! The grand finale! The Homegrown artists will be performing for the fourth and final time at Vivid Projects, Birmingham. It's set to be a fantastic show. After four months of development their work has come a long way and is better than ever.

Come join us and experience an evening of extraordinary experimental performance.

The artists: Albert Smith, Andy Howlett, Caitlin Griffiths, China Dethcrash, Myah Jeffers, Sebastian H-W
The Homegrown project, initiated by Home For Waifs and Strays, has been working directly with the aforementioned artists to build on their performance skills over a number of months. For their final performance I lent me skills as curator to help them think about how to use a dynamic space like Vivid Projects. Y'all should definitely come and experience the wide range of works. There will be performances, one-to-one pieces and installations.