On 23rd April Mothwasp – Matt Watkins and Steven Taylor – will be returning to Flatpack Film Festival to perform as part of the Optical Sound series of events.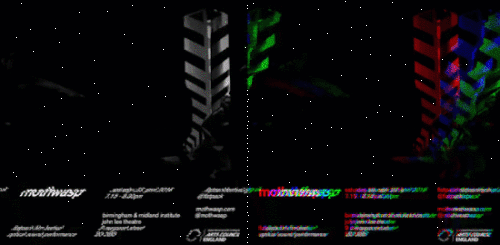 Multi-disciplinary artist Matt Watkins joins forces with drummer Steven Taylor (Calvados Beam Trio) to explore the intersection of moving image, noise, electronics, mechanics and abstraction. With a penchant for defunct analogue media the duo experiment with 16mm film, tape, slide projectors, paint and DIY electronics, in conjunction with modern digital apparatus to create live, semi-improvised, audio-responsive cinematic experiences. Taking inspiration from filmmakers Len Lye, Ken Jacobs, the playful graphic sensibility of Bruno Munari, and the demise of Birmingham's brutalist architecture, Watkins' baritone guitar, Taylor's drumming, Cage-inspired prepared piano experiments, field recordings and homemade electronics drive a visual and sonic maelstrom. For fans of noise, drone, chaos and concrete.
Early in March 2016 I was asked by Matt Watkins to give advice in preparing for the performance. It's been quite an interesting experience, primarily because my practice is mostly digital and one of Mothwasp's remits is to experiment with analogue technology. The performance takes place 19:15 – 20:30 on April 23rd at the Birmingham and Midland Institute. I won't be joining them on stage but I encourage you all to see the performance!