Back at it again with the Year in Review blog post! As suggested in 2018 this year I have been focusing more on my own independent projects and building my practice. Here's some of the highlights.
January
Started January with my first visit to ICLC which was held in Madrid. Myself and Olivia Jack led a meetup and discussion for Visualists. I compiled some of the notes from that meetup here. and then I joined Class Compliant Audio Interfaces for a performance.
In January I also publicly announced my departure from Vivid Projects. I had been in this role in one fashion or another since 2010. I enjoyed so much of it and learned a tonne but decided I needed to focus on my own work.
I made some animations for Plasma Bears, which is a "collectible crafting and questing game".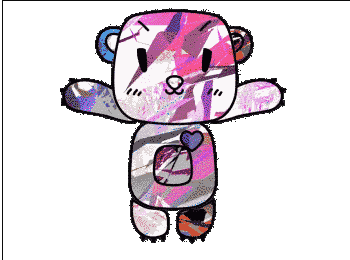 data.set, which was originally commissioned by Open Data Institute for the Thinking Out Loud exhibition, was part of the Forward exhibition at Ikon Gallery/Medicine Bakery. I did an interview with Ikon Gallery about my thoughts on being on artist in Birmingham
I also started mentoring for Random String again. You can read about one of my mentee's progress here
February
Despite being relatively new to live coding music I took part in the Toplap 15th Anniversary [Live] Stream.
It was scary performing to the whole internet but it was fun!
I started working with Barbican again on a series of workshops as part of their Life Rewired season. To help launch their new season I performed with Emma Winston/Deerful at their launch night.
Also in February an Algoave documentary produced by Edited Arts was published on Resident Advisor.
March
The biggest event of March was most definitely going to SXSW in Texas to present Algorave!
The Algorave featured ALGOBABEZ, Alexandra Cardenas, Belisha Beacon, co34pt, Coral Manton, hellocatfood (that's meee), Scorpion Mouse and Renick Bell.
Many thanks to Joanne Armitage who took the lead on planning this and to British Underground and Lush for the support.
We did an interview with the SXSW magazine to promote our events there.
Quite soon after landing back in the UK I created new work for the V&A's Friday Late event Copy / Paste.
The two video works, called Visually Similar, look at how a false narrative can be created through images found on the internet. I wrote a bit about the process of making this work in June's Development Update.
I also became an Artist Adviser for Jerwood. I was already familiar with the gallery as I had exhibited with them in 2016 as part of Common Property. It was an honour to be invited back to have a role in shape how they fund the arts.
Also at the beginning of the month I curated the opening of Black Hole Club, which was my final event for Vivid Projects/Black Hole Club.
April
As if SXSW wasn't exciting enough in April I performed at an Algorave at the British Library.
It was one of the more unconventional places I've played but still highly enjoyable.
Later that month I performed at the Afrotech Fest opening party and the artwork I made for Fermynwood's programme Toggler went online. I was also interviewed by Lynae Cook whilst at SXSW for her podcast BTS. In April the interview went online.
May
In early May the Time Portals exhibition at Furtherfield opened its doors. I collaborated with Studio Hyte to create a billboard which could be scanned to reveal an augmented reality artwork.
There's an overview video featuring all of the artists including me and Arjun Harrison-Mann from Studio Hyte.
AlgoMech was back for 2019 and I was present to perform with CCAI, do a solo music performance, and also to exhibit in their exhibition Patterns of Movement.
I exhibited a video and print work called A Perfect Circle in which I captured the movement of trying to draw shapes. Quite a departure from my usual work but I liked the performative nature of it. I wrote a bit about the technical challenges of making it here.
Elsewhere two articles about Algorave were published, one in Riffs and another in The Times.
June
One of my biggest exhibitions of the year was the group show Wonder curated by Rachel Marsden
For my work in this exhibition I continued with my critique of Disney for being a company to negatively impact copyright laws. I also created a slightly sinister wonderland (video will be online some time in 2020). You can take a virtual tour of the exhibition through this youtube video or page on the Google Arts and Culture website.
I was back in Manchester to do a presentation and some mentoring for Manchester International Festival's Creative Lab programme

(that video features some of my very early live coding music!)
I also returned to regular blogging with a series called Development Updates. Through this series I want to demystify the "magic" of creating digital art and show that there's still a lot of problem solving, hacking, and messiness that go into creating a "finished" artwork or exhibition. Follow the development-update tag to see all of them.
Elsewhere I revamped the Proxy Pavilions artworks for the Vague but Exciting exhibition at Vivid Projects and was on Matthew Evans' podcast sharing some of the songs that influence me and talking about being an artist in Birmingham. I also played a huuuuge Algorave at Corsica Studios. To prepare for this I started live streaming my rehearsals.
July
I headed out to the city of Nevers, which is not far from Paris, to take part in NØ SCHOOL NEVERS as one of their teachers. It was definitely a school but kinda like one without textbooks or lesson plans. We all learnt from each other and explored some really experimental stuff, like Daniel Temkin's esoteric programming languages which use folders as its input!
After a busy first half of the year is was really nice to spend a week with like-minded people learning about art and tech, eating great food and occasionally relaxing on a beach 🙂 I feeling a strong eight to light nine on this experience.
In July it was also announced that I had joined a-n Artists Council
You may remember that I had run one of their Assembly events in June 2018. I'm really happy to be part of this group and hope to bring my perspective of being in the West Midlands and as a digital artist.
August
As part of the Wonder exhibition I organised an Algorave at The Herbert, which also happened to be Coventry's first Algorave! I invited Lucy aka Heavy Lifting, Innocent, Carol Breen, and newcomer Maria Witek who I collaborated with on music.
It was for sure one of my favourite Algoraves! The staff at The Herbert were lovely and prepared the venue and equipment perfectly, the performers were ace and the crowd brought great energy.
Fellow Visualist Rumblesan released his live coding software Improviz in July. Think of it a bit like LiveCodeLab but it's on the desktop and you can use your own image and gif textures. For the occasion he commissioned me to make some gifs that would come preloaded with the software.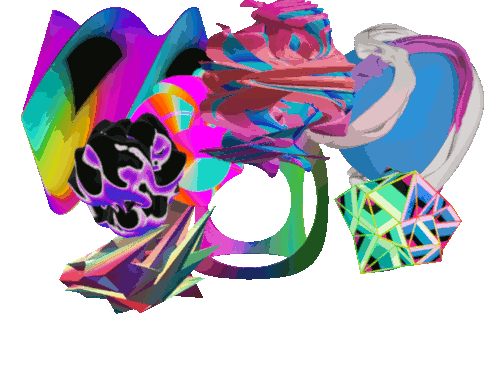 In August I made the Blender files available to the public for y'all to experiment with. I definitely think you should try Improviz out!
September
September started with me being featured in a BBC Radio 4 documentary about copyright and the relationship between artists and brands/corporations.
Art of Now – Sell Out featured myself and artists including Nan Goldin, and Gary Hume each giving our thoughts on brands and art. It's still online so go listen.
Also at the beginning of the month the Bcc: exhibition opened at Vivid Projects. I'd previously taken part in the online version of this in 2018 and for the IRL exhibition I acted as Producer. It was a technically challenging exhibition to install which I wrote about in three Development Updates in December.
It made me really happy to see so much digital art being exhibited in Birmingham and was great to meet the Editor of Decoy Magazine, Lauren Marsden, IRL.
Elsewhere I was a judge for the Digital Art category for Koestler Arts' exhibition Another Me which took place at Southbank. I sadly didn't get to see the exhibition in person but it was inspiring to see the work coming from people in prisons.
I organised an Algorave for Llawn in Llandudno and then I exhibited a rather odd artwork for the Odds exhibition at TOMA in Southend-on-Sea.
I exhibited a video showing me attempting to compile Blender, as a way show that sometimes making digital art involves a lot of waiting!
Aaaaaand Ian Davies photographed myself and Emily Jones as part of his Brum Creatives project.
October
October was quiet-ish. I did two Algoraves in two countries in 18 hours! The first was at OHM in Berlin and was organised by Renick Bell. I then made my way to Walthamstow to do an "Algowave", which was basically a more ambient rave. Radical Art Review did a feature on the event.
I made a rerecording of the performance and put it on Soundcloud:
Following on from the Assembly events in 2018 the organiser myself, Thomas Goddard (organiser of the Cardiff event), and Joanna Helfer (organiser of the Dundee event) embarked on a week-long journey to each of our respective cities to check out the art scene and reflect on how arts organisations were responding to the challenges they faced. It was a tiring but very inspiring week.
Also in October I was commissioned to make some work for the Shakespeare Birthplace Trust. It's on view in Stratford until October 2020 so go see it!
Finally, I was on the selection panel for the Collaborate exhibition at Jerwood Arts and in October the exhibition opened.
November
By far the biggest event of the November was my solo exhibition, We Are Your Friends, which took place at Czurles Nelson Gallery in Buffalo, NY.
It's my second solo exhibition and the first time I made a multichannel video. I had a really great time, which inluded a trip to Niagara Falls. Many thanks to Brent Patterson for working so hard ot make it happen.
Not even two days after landing back in the UK I was in Berlin to take part in Right the Right at Haus der Kulturen der Welt. The festival explored "Ideas for Music, Copyright and Access". My video Unauthorised Copy was on show throughout the exhibition, I performed at an Algorave and I was in conversation with Beijing-based musician Howie Lee. You can listen to our conversation below and watch the video recording here.
Also in November I Am Sitting in a Room was exhibited at Gamerz festival in Aix-en-Provence in France. That piece is nearly ten years old!
December
As usual December was very quiet, and it was much needed after being away from home for nearly a month in November. I didn't exhibit anything but I did use this month to prepare for stuff happening in 2020. It's been my first year being completely freelance and I think it's gone really well! My plans for next year are to do much of the same but also look into working with/for a gallery, and maybe even a slight career change. More on that as it happens. 2019 was ace. Thanks to everyone who helped make it great!