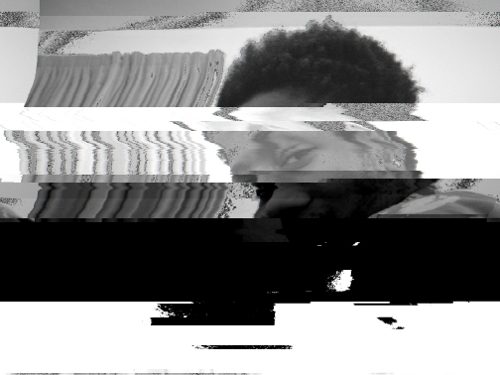 Antonio Roberts is an artist and curator based in Birmingham, UK, working primarily with video, code, and sound. He is critically engaged with the themes surrounding network culture and in his practice explores how technology continues to shape ideas of creation, ownership, and authorship. As a performing visual artist and musician he utilises live coding techniques to demystify technology and reveal its design decisions, limitations, and creative potential.
His work has been featured at galleries and festivals including databit.me (2012), Furtherfield (2013, 2019), Tate Britain (2014, 2015, 2020), Ukrainian Institute of Modern Art in Chicago (2014),Birmingham Open Media (2015-2016), Jerwood Arts (2016), Whitney Museum of American Art (2017), Green Man Festival (2017), Barbican (2018), Victoria and Albert Museum (2019), and the Czurles Nelson Gallery (2019).
He has curated exhibitions and projects including GLI.TC/H Birmingham (2011), Bring Your Own Beamer (2012, 2013), Stealth (2015), No Copyright Infringement Intended (2017), Copy Paste (2020), and Rules of Engagement (2020). He is part of a-n's Artist Council, is an Artist Advisor for Jerwood Arts and from 2014 – 2019 he was Curator at Vivid Projects where he produced the Black Hole Club artist development programme.
Interviews and features
2021
2020
Hack What You Want For Making Music – Novation https://novationmusic.com/en/news/hack-making-music
An interview with Birmingham-based digital artist Antonio Roberts – This and That Zine – https://thisandthatzine.com/f/an-interview-with-birmingham-based-digital-artist-antonio-roberts
Get lost in stupidly ace sounds and imagery of the algorave, then get smarter and make your own – Create Digital Music –https://cdm.link/2020/05/get-lost-in-stupidly-ace-sounds-and-imagery-of-the-algorave-then-get-smarter-and-make-your-own/
2019
Sounds Sans Spectacle: Listening In The Algorithmic Age – Radical Art Review – https://www.radicalartreview.org/post/algorave-waltham-forest-were-all-bats-joanne-armitage-algobabez-ambient-drone-asmr
Toggler Antonio Roberts – Fermynwoods Contemporary Arts – http://fermynwoods.org/toggler-antonio-roberts/
Art of Now – Sell Out – BBC Radio 4 – https://www.bbc.co.uk/programmes/m000823r
Distorting Popular Culture | WONDER Interview – https://www.youtube.com/watch?v=s9Tc7Pwxd8s
Concrète Music 007 – https://www.mixcloud.com/BrumRadio/concr%C3%A8te-music-007-12062019/
Algorave — the nerdiest clubbing trend of them all – The Times https://www.thetimes.co.uk/article/algorave-the-nerdiest-clubbing-trend-of-them-all-h7hghst67
Punk meets politics at SXSW, the world's weirdest music festival – The Times https://www.thetimes.co.uk/article/punk-meets-politics-at-sxsw-the-world-s-weirdest-music-festival-7nd637zqr
Algoraves Put Live Performance Into Programming – SXSW https://www.sxsw.com/world/sxsworld/2019/algoraves-put-live-performance-into-programming/
Visions of Sound: An Experimental Review on Algorave – Alice Tomlinson – Riffs Journal http://riffsjournal.org/2019/04/26/visions-of-sound-an-experimental-review-on-algorave-alice-tomlinson/
#11: New media artist & curator Antonio Roberts on Algorave, funding projects at SXSW 2019 – BTS Podcast https://anchor.fm/btspodcast/episodes/11-New-media-artist–curator-Antonio-Roberts-on-Algorave–funding-projects-at-SXSW-2019-e3p2uo
Meet Antonio Roberts: Forward Artist – Ikon Gallery https://www.ikon-gallery.org/blog/2019/01/28/meet-antonio-roberts-forward-artist/
Staying Late at the Library … to Algorave – British Library https://blogs.bl.uk/digital-scholarship/2019/03/staying-late-at-the-library-to-algorave.html
Algorave Generation – Resident Advisor https://www.youtube.com/watch?v=S2EZqikCIfY[[ml]]
2018
Float. Showcase – Float https://floatshowcase.org/antonio-roberts
Art/Law Network http://artlawnetwork.org/antonio-roberts/
How Green Man Festival boosts visual and performance arts – Red Bull https://www.redbull.com/gb-en/green-man-trust-profile
Antonio Roberts interview at Transmediale:CTM 2018 https://vimeo.com/255479051
Five questions about Libre Graphics, answered by Antonio Roberts – Libre Graphics Magazine http://archive.libregraphicsmag.com/the-archive/five-questions-antonio-roberts/
Unlocking Proprietorial Art Systems interview: with Artists, Gretta Louw, Antonio Roberts & Annie Abrahams https://marcgarrett.org/2018/02/26/unlocking-proprietorial-art-systems-an-interview-with-artists-gretta-louw-antonio-roberts-annie-abrahams/
2017
Antonio Roberts Reports from The Arts in a Digital World Summit, Montreal – New Art West Midlands http://newartwestmidlands.co.uk/editorial/antonio-roberts-reports-from-the-arts-in-a-digital-world-summit-montreal/
Algorave: The live coding movement that makes next-level electronic music – Mixmag https://mixmag.net/feature/algorave
Copyright, culture, and creativity – Imperica https://www.imperica.com/en/viewpoint/copyright-culture-and-creativity
Copyright as Medium – Elephant Magazine https://elephantmag.com/copyright-as-medium/
Copyright infringement intended? – Right To Copy https://web.archive.org/web/20171215171959/https://righttocopy.com/2017/11/18/no-copyright-infringement-intended/
Run the code: is algorave the future of dance music? – Guardian https://www.theguardian.com/music/video/2017/nov/30/run-the-code-is-algorave-the-future-of-dance-music
2016
Artists and Copyright – everything is a remix – a-n https://www.a-n.co.uk/news/artists-and-copyright-everything-is-a-remix
What Rights Copyright – Furtherfield http://www.furtherfield.org/features/interviews/what-rights-copyright-interview-artist-antonio-roberts
Logos and Protest – Elephant Magazine http://elephantmag.com/antonio-roberts-logos-protest/
MozEx: celebrating open internet, technology and creativity through digital art – Fad Magazine https://fadmagazine.com/2016/11/03/mozex-celebrating-open-internet-technology-creativity-digital-art/
Common Property – Elephant Magazine https://elephant.art/common-property/
2015
Stealth: the blur of privacy, the illusion of control – Imperica https://www.imperica.com/en/in-conversation-with/stealth-the-blur-of-privacy-the-illusion-of-control
In conversation with… Antonio Roberts and Sam Wray – Imperica https://www.imperica.com/en/in-conversation-with/in-conversation-with-antonio-roberts-and-sam-wray
Interview with Antonio Roberts by Laura Davidson – Saturation Point http://www.saturationpoint.org.uk/Antonio_Roberts.html
A Few Of My Favourite GIFs – Canvas by Grolsch http://canvas.grolsch.com/pe/node/8471
Digitalismo & Digitalistas – Neo2 http://www.neo2.es/blog/2015/09/digitalismo-digitalistas/
https://www.hellocatfood.com/interview-with-rosemary-kirton/
2014
Twitchy Glitch GIFs Look Like Digi-Devastated Worlds – The Creators Project http://thecreatorsproject.vice.com/en_uk/blog/twitchy-glitch-gifs-look-like-digi-devastated-worlds
Interview with Antonio Roberts / Hellocatfood – Neonvice http://web.archive.org/web/20151006030534/http://www.neonvice.com/news//interview-antonio-roberts-hellocatfood | https://neonvice.com/post/160299850545/interview-antonio-roberts-hellocatfood/amp
Bending the Ghost in the Machine – Tribe Magazine https://readymag.com/tribe/33997/102/
Fierce Festival, Club Fierce: Algorave – http://thisistomorrow.info/articles/fierce-festival-club-fierce-algorave
2012
Pioneer Toolkit http://web.archive.org/web/20120404131058/http://www.pioneertoolkit.com/2012/01/
http://web.archive.org/web/20120403014822/http://www.pioneertoolkit.com:80/
2011
Celebrating Imperfection – Imperica https://www.imperica.com/en/features/celebrating-imperfection
GLI.TC/H BIRM – Redbrick http://www.redbrick.me/culture/gli-tch-birm/ | https://www.redbrick.me/gli-tch-birm/