GLI.TC/H has started and on Saturday November 19th it'll be making its way to VIVID in Birmingham, UK! The full programme is available here, and as a PDF. Over the week I'll be providing a bitesized overview of the upcoming events.
Realtime A/V: Minuek and Chromatouch
The second of our Realtime A/V performances comes from UK-based VJs Minuek and Chromatouch. Here they are as a part of the VJ collective Freecode earlier in the year:

Bio
Minuek is a UK based Audio Visual artist. Starting out doing video for the Brighton based Wrong Music label. He has worked doing live visuals at various festivals and events around the UK. Performing Audio Visual sets since 2008 working with node based creation tools. He is part of the Freecode Audio Visual collective, a group of artists exploring realtime audio and video that started from a performance at the ÊExyzt 'Burningham' installation at this years Fierce Festival in Birmingham. The collective have performed various shows in unique locations over the intervening months.
Bio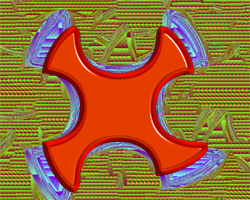 leon trimble goes under the name chromatouch and has been tweaking digital stuff since the last millenium. starting making music on amigas in the early 90s he progressed to noodling with graphics and 3d animation. by the time the millenium bug failed to materialise he'd started using pcs and become a web designer. video editing and photography had taken hold of his creative bent by this time and he started making visuals for dance clubs. having become fairly popular locally and further afield he started turning to more artistic avenues using his skills to express leftfield ideas of light.
Meta
GLI.TC/H 20111 will include works from over 100 participants from more than a dozen countries and will be taking place in virtual-space at http://gli.tc/h and in real-space
For more details visit: http://gli.tc/h | http://glidottcslashh.tumblr.com/ | https://www.facebook.com/glidottcslashh | @GLIDOTTCSLASHH
GLI.TC/H BIRM is part of The Garage presents… programme from VIVID and is supported by the National Lottery through Arts Council England and Birmingham City University