Common Property held its opening event at Jerwood Space on 14th.
Jerwood Encounters: Common Property seeks to demonstrate how artists engage with and relate to copyright through the work of six emerging and mid-career artists, including three new commissions. The exhibition and accompanying events programme seeks to generate new conversations about how copyright is currently impacting the way visual artists make and distribute their work, and demonstrates how artists are challenging the limitations of copyright through their practice.
The exhibition features new commissions by myself, Owen G Parry and Hannah Knox alongside existing works by Edwin Burdis, Rob Myers and SUPERFLEX.
I'm really impressed by curator Hannah Pierce's selection of artists and artworks that each deal with the broad topic of Copyright in very different ways.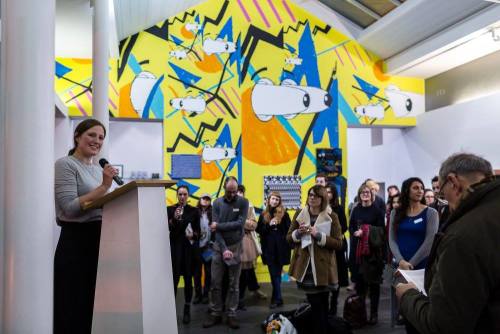 For this exhibition I developed two new works, Transformative Use and a collection of four works, I Disappear, Blurred Lines, My Sweet Lord and Ice Ice Baby.
Photos in this post by Hydar Dewachi.
Transformative Use
This work builds upon the Dead Copyright piece made for the Permission Taken exhibition at Birmingham Open Media and targets one corporation.
I Disappear, Blurred Lines, My Sweet Lord, Ice Ice Baby
These four pieces use the sonification techniques developed in 2013 to create audiovisual data remixes of songs that are well known due to being involved in course cases about copyright.
Already there has been a writing and events surrounding the exhibition. a-n published an interview with myself, Owen G Parry and Hannah Pierce, and on 21st January a panel discussion took place at London Art Fair about Copyright and Intellectual Property. The panel consisted of myself, Hannah Pierce and Shane Burke and was chaired by Shonagh Manson. Future events include a fan club event by Owen G Parry on 29th January and a tour of the exhibition on February 15th that will conclude with a Sonification Studies performance by me.
Thanks
My thanks go out to Hannah Pierce for selecting me for inclusion in this exhibition and to the whole of the Jerwood Visual Arts team for their help installing the works. The exhibition continues at Jerwood Space until 21st February.